4 tags
8 tags
4 tags
LIVE: Tulsa Shock @ Seattle Storm May 17, 2013 →
WNBA Basketball Play By Play: Final statistics from the Tulsa vs. Seattle game played on May 17, 2013 Pre-Season game in Seattle. No video for this one. 
3 tags
2013 WNBA Draft Results
Round 1 1. Brittney Griner [+] Phoenix Mercury 2. Elena Delle Donne [+] Chicago Sky 3. Skylar Diggins [+] Tulsa Shock 4. Tayler Hill [+] Washington Mystics 5. Kelsey Bone [+] New York Liberty 6. Tianna Hawkins [+] Seattle Storm 7. Toni Young [+] New York Liberty 8. Kayla Alexander [+] San Antonio Silver Stars 9. Layshia Clarendon [+] Indiana Fever 10. A'dia Mathies [+] Los Angeles...
3 tags
WNBA Draft tonight @ 8 pm ET on ESPN2 & WatchESPN
5 tags
11 tags
6 tags
7 tags
2 tags
Eff yeah, WNBA! 'S Mock 2013 Draft
Phoenix Mercury - Brittney Griner, Baylor Chicago Sky - Elena Delle Donne, Delaware Tulsa Shock - Skylar Diggins, Notre Dame Washington Mystics - Taylor Hill, Ohio State New York Liberty - Kelsey Bone, Texas A&M Seattle Storm - Tianna Hawkins, Maryland New York Liberty - Sugar Rodgers, Georgetown San Antonio Silver Stars - Toni Young, Oklahoma State Indiana Fever - Kelly Faris,...
3 tags
Washington Mystics Acquire Quanitra Hollingsworth →
7 tags
Liberty trade Quanitra Hollingsworth to Mystics →
Trader Bill is at it again! "NY Liberty Head Coach and General Manager Bill Laimbeer announced today that the team has acquired a 2013 third round pick (25th overall) from the Washington Mystics in exchange for the rights to forward Quanitra Hollingsworth. The 2013 WNBADraft will air live tonight, Monday, April 15 at 8 p.m. on ESPN2."
WNBA draft hinges on Washington Mystics' No. 4...
rebkellreader: Last September when the WNBA draft lottery was held, Washington president/managing partner Sheila Johnson couldn't hide the look of frozen horror when the Mystics got the No. 4 pick. Fourth was the "tough-luck" spot in a draft where there were perceived… View Post
4 tags
Liz Cambage not returning to WNBA in 2013 →
Tulsa head coach and general manager Gary Kloppenberg has confirmed that Liz Cambage will not return to the Shock for the 2013 season, opting instead to play in China.
2 tags
ESPN signs six-year extension with WNBA
rebkellreader: The WNBA signed a six-year extension with ESPN, reportedly worth $12 million per year, according to Sports Business Daily. The new deal will include a double-header on Memorial Day, shown on ESPN2, the WNBA's version of the NBA's Christmas Day games. The… View Post
9 tags
Tulsa, Minnesota and New York Liberty rework...
Published on March 1, 2013 By David Siegel from hoopfeed Bill Laimbeer earned his reputation as "Trader Bill" while in Detroit, and he is out to regain that moniker in New York. His goal it seems is to recapture the championship glory of his Shock franchises, by bringing in familiar faces. After signing Katie Smith earlier this week to join Liberty returnees Kara Braxton and Plenette Piersen,...
3 tags
Washington Mystics hire Mike Thibault - ESPN →
womensbasketballdaily: Happy holidays, Mystics fans. This is really good news: Mike Thibault was hired as the organization's new coach and general manager. This seemed the most breathtakingly obvious move that Washington could have made. On Nov. 20, after the Connecticut Sun announced they were parting ways with Thibault, my first question when I talked to him was, "How are you doing?" Followed...
Happy Halloween!
4 tags
3 tags
Defending champ Baylor tops USA TODAY preseason... →
womensbasketballdaily: Following a record-smashing 40-0 season that culminated in the national championship, the Baylor women's basketball team is starting 2012-13 right where it left off last spring. The Lady Bears are a unanimous No. 1 choice in the preseason USA TODAY Sports women's poll, receiving all 31 first-place votes from the coaches on the panel. Baylor returns every starter from the...
4 tags
Bill Laimbeer selected as Coach and GM of New York... →
As if there weren't enough reasons to get excited for the 2013 season.
Moving on after an incredible run →
Wednesday, October 24, 2012 Moving on after an incredible run By Tamika Catchings It's funny how no matter what happens, every season finishes the same way: by cleaning out your locker. So just two days after the incredible high of winning my first WNBA title, here I am, pulling a yellowed robe out of the bottom of my locker. I forgot I even had it (and I'm pretty sure it...
3 tags
8 tags
5 tags
2 tags
A true team effort and unlikely contributors... →
womensbasketballdaily: The Indiana Fever are WNBA champions, and it's because they brought a team to these Finals rather than a collection of Olympic mega-stars.
2 tags
2 tags
8 tags
6 tags
4 tags
4 tags
4 tags
3 tags
4 tags
5 tags
Overcoming the Odds, Fever Win 2012 WNBA... →
By Susan J. Wilden OCTOBER 22, 2012  INDIANAPOLIS — In a WNBA Finals that could be categorized from anywhere between woulda coulda shoulda to what the heck, the Indiana Fever prevailed over the Minnesota Lynx, 87-78, in front of a sold out Bankers Life Fieldhouse crowd to take the 2012 WNBA championship three games to one.
4 tags
Indiana Fever are WNBA Champions. Catchings is...
4 tags
47-42 Indiana at the half!
theresistance728: A new champion may be crowned if Indiana can close out the Lynx in this second half. Fever fans do not count out the defending champs. This is going to be a great second half!
5 tags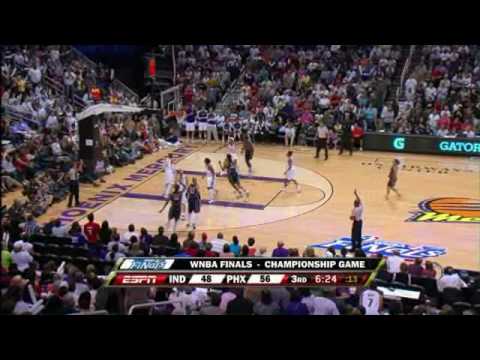 8 tags
4 tags
Katie Douglas expected to dress tonight for the...
4 tags
6 tags
2 tags
In the history of the WNBA Finals, teams that are up 2-1 in the best of five series only win the series 25% of the time.
4 tags
4 tags